Senior Boxes
Nearly 5 million senior citizens currently face hunger in our country. After a lifetime of hard work, 63% of the households with older adults (50+) find themselves facing an impossible choice — to buy groceries or medical care. And as the baby-boom generation ages, the number of seniors facing hunger is only expected to increase.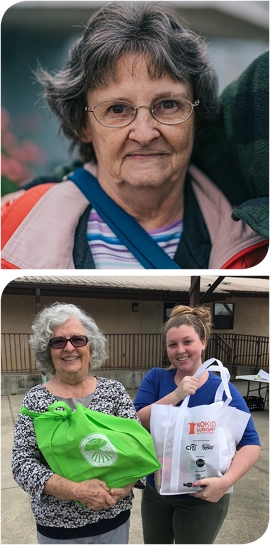 Feeding the Gulf Coast operates the Commodity Supplemental Food Program (CSFP) also referred to as Senior Boxes in Bay, Walton, and Holmes counties which provides food to seniors in need by giving USDA-donated foods to eligible participants through a monthly food package. Seniors must be 60 years of age or older and have a household income at or below 130% of the Federal Poverty Level.
Senior Boxes Improve Health
CSFP helps to combat the poor health conditions often found in food insecure seniors. According to National Health and Nutrition Examination Survey data, food-insecure seniors over the age of 60 are significantly more likely to have lower intakes of major vitamins, to be in poor or fair health, and to have limitations in activities of daily living. Without proper nutrients, seniors are at risk for:
Increased disability
Decreased resistance to infections
Deteriorating mental health
Lengthening of hospital stays
Diabetes
Participate in Program
For more information about this program or to see if you are eligible, contact Kasey Poole at (850) 626-1332 ext. 205
Learn more about senior hunger.
Mobile Pantry Program
The Mobile Pantry Program directly serves clients in areas of high need to supplement other hunger-relief agencies in that area. Through a mobile pantry, a truckload of food is distributed to clients in a single-day allowing us to provide a family with enough food for a week for just $10. Each mobile pantry distributes a variety of product include protein, canned or fresh produce, dairy, and grains.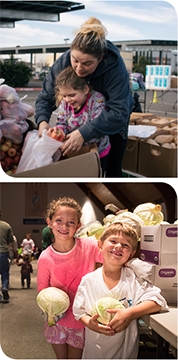 Produce Drop



A produce drop distributes thousands of pounds of fresh produce to communities in need. Food deserts are areas with little access to fresh produce, or the price of fruits and vegetables is too much for families in need to afford. This single-day distribution helps eliminate the need for food to be stored at a local pantry and gets the product into the client's hands quicker.

Host or Sponsor a Distribution
For more information about mobile pantry distributions, contact Agency Relations at (251) 653-1617 Option 4. Grants may be available from the Walmart Foundation to help alleviate the cost.

To sponsor a mobile pantry distribution, contact Cyndy Baggett at (251) 653-1617 ext. 130.