Outreach
The Outreach Team works with community organizations to reach households who qualify for benefits but face barriers that keep them from participating in the application process.

Benefits Enrollment Center (BEC)
The BEC helps eligible low-income seniors, adults, and people with disabilities find and enroll in benefits programs; enabling clients to put money towards other necessities (i.e., prescriptions, insurance, and housing costs.)
Our team helps individuals navigate the application process for the following benefits programs:
Supplemental Nutrition Assistance Program (SNAP)
Medicare Part D Extra Help (or Low-Income Subsidy, LIS)
Medicare Savings Program
Low-Income Home Energy Assistance Program
Free Cell Phone
Senior Farmers Market Nutrition Program
The BEC offers your agency the following resources: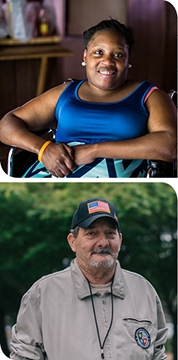 In-person screening and application assistance at your facility.
Person-centered, appointments with the BEC Helpline.
Training opportunities for agencies or volunteers interested in performing outreach events in their community.
Promotional material that you can provide to clients who may be eligible.
If you or someone you know needs help, contact our free, confidential BEC Helpline at 1-877-833-2550.

Where We Work
Feeding the Gulf Coast partners with the Food Bank of North Alabama and the Community Food Bank of Central Alabama to provide SNAP Outreach to the entire state of Alabama. Feeding the Gulf Coast also partners with the National Council on Aging and the Mississippi Food Network to assist south Mississippi.
If you or your organization is interested in bringing SNAP Outreach to your community, please contact our team.