Approximately 72 billion pounds of perfectly good food ends up in landfills and incinerators every year. We are fortunate to partner with hundreds of local stores and farmers who donate their excess perishable items to families in need. Together, we are committed to reducing the needless waste of good food so we can feed our families and resources.
Store Donation Program
When stores have slightly damaged products or food nearing the expiration date, they pull it from shelves, and instead of disposing of it, they donate it. Retail store donations provide the food bank and agency partners with access to a variety of products, including fresh produce, dairy, meat, and bread. Feeding the Gulf Coast and select agencies pick up from approximately 200 stores each week, collecting over 1.1 million pounds of food every month.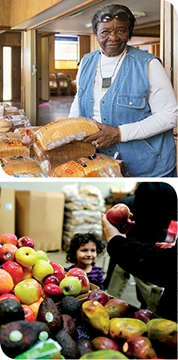 If you would like to get involved with this program in Alabama or Mississippi, contact Kari Ann Kinder at (251) 653-1617 ext. 113. For Florida, contact Duane Ates at (850) 626-1332 ext. 206.
Local Retail Donation Partners
Big Lots
Costco
Farm Fresh Meats
Flowers Foods
Fresh Market
Military Commissaries
Piggly Wiggly
Publix
Sam's Club
Save-A-Lot
Target
Walmart
Winn Dixie

Produce Procurement
A core part of our strategic plan is to ensure more of our partners and clients have access to nutritious food. We are working to establish strong relationships with local farmers, producers, and other non-traditional suppliers to procure millions of pounds of fresh produce every year.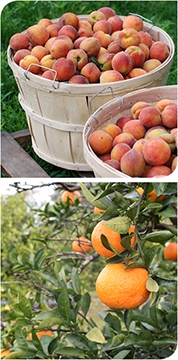 Gleaning



Feeding the Gulf Coast partners with local farmers and growers to help pick healthy, nutritious produce for those in need. When farmers are at the end of their season, they will contact the food bank to arrange a field glean. Large groups of volunteers are needed to harvest and pack boxes so that the fruit or vegetables can quickly get to our partners. Agency partners are encouraged to attend the glean and take the produce home that day. We partner with several area farmers and are always looking for new opportunities.
Partner with us



If your farm would like to get involved with our gleaning program or if you have excess produce you would like to donate, contact Cindy Bloom at (251) 653-1617 ext. 124. All donations are tax-deductible and protected from criminal and civil liability under the Bill Emerson Good Samaritan Food Donation Act.

If you or your group want to volunteer to help glean or sort produce, contact
Missy Busby at (251) 653-1617 ext. 127.
Waste It or Taste It?
Take Feeding America's quiz to see if you can spot the food that may be destined for the dumpster. Each completed quiz equates to a $1 donation to Feeding America.

Resources