When Disaster Strikes
The food bank transitions immediately into disaster relief mode when a storm hits our service area. Following the storm, we work with our food pantries and meal programs to begin response and recovery efforts. We continue providing relief long after other recovery efforts have ended.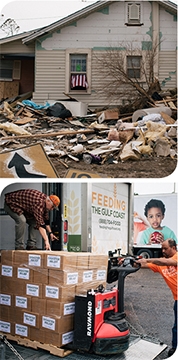 We coordinate efforts with local government officials, Voluntary Organizations Active in Disaster and the American Red Cross to ensure unduplicated, efficient and timely relief.
Volunteer for Disaster Relief



Volunteers are needed to pack and distribute emergency food boxes, assist with mobile pantries, or make and answer phone calls during the days following a disaster. Please fill out this form and list Emergency Response to be added to our database of emergency volunteers.
Donate
The need for relief efforts continues months after the disaster is over. We remain in communities long after other disaster organizations leave. Donate today to help us provide immediate disaster relief to our service area during times of natural disaster or crisis.

View our Most Needed Items list.
Disaster Preparedness
Start now to prepare in the event of a natural disaster in your backyard. Check out the disaster prep links below to get started:
Planning
https://www.ready.gov/make-a-plan
https://www.ready.gov/hurricanes
Safety Kits

https://www.ready.gov/build-a-kit
Emergency Alerts
http://www.nhc.noaa.gov
https://www.ready.gov/alerts
County Specific Alerts
Mobile County
Baldwin County
Escambia County
Santa Rosa County
Jackson County
Harrison County