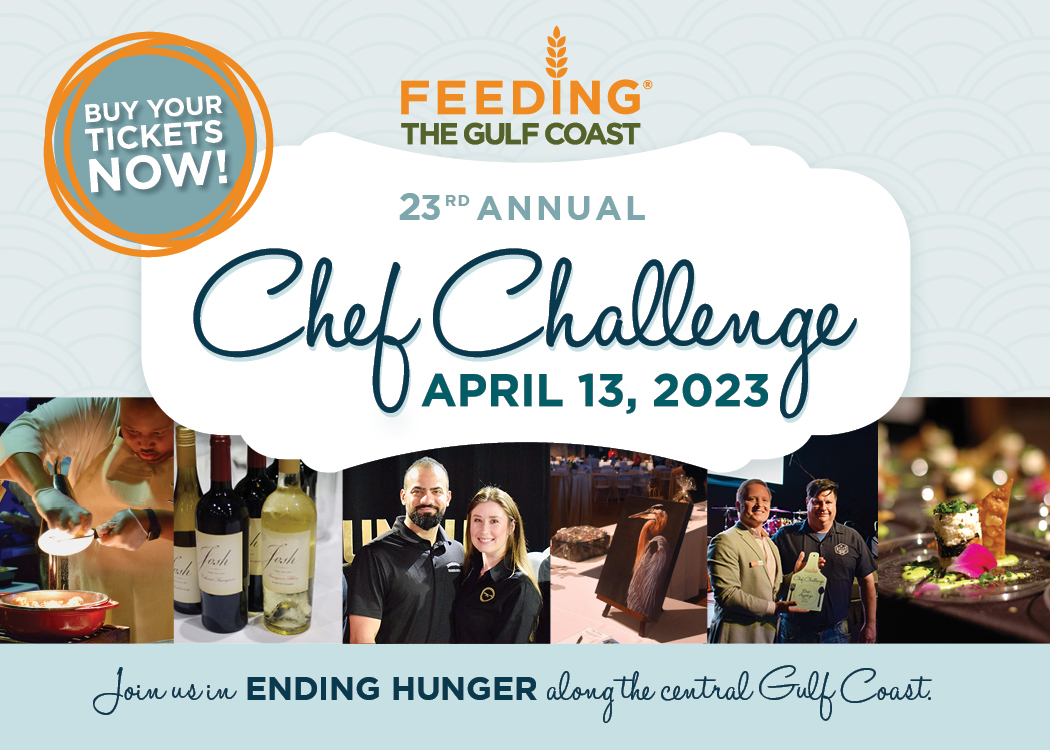 This year's 23rd Annual Chef Challenge presented by MCG Workforce Solutions will take place
on Thursday, April 13, 2023, at the Mobile Convention Center in Mobile, AL from 6-9 p.m.

Chef Challenge is an evening of culinary delight supporting Feeding the Gulf Coast. Enjoy tastings from local chefs, complimentary beer and wine, entertainment by Roman Street, and a silent auction, all in the name of ending hunger in your community.
Guests must be 21+

Sponsorships and tickets are available now for purchase here.
Don't delay though, tickets are almost sold out.

Purchase Tickets or Sponsorship
Want a glimpse at what's in store for the night of the event? Watch the video below to see highlights from last year's event.
Thank you to our 23rd Annual Chef Challenge Participants!
A Gathering Place Catering, LLC
Bread Pudding
ACF Metro Mobile Chefs & Cooks Association
Toasted Baguette Roasted Pork
with Peach Mango Relish and Crispy Rainbow Chard
The Battle House
Braised Italian Pork Roast
over tomato risotto

Bay Gourmet Catering and Crown Hall
Tuna Ceviche
with sesame oil, avocado, lime, cilantro
and topped with a spicy wonton chip
Cowboy Butter Dipped Prime Rib
with Chimichurri sauce
Bill-E's
Pork Belly Bites
with bourbon glaze
Cammie's Old Dutch Ice Cream Shoppe
Brownie Sundaes
Coastal Alabama Community College
Braised Pork Belly
with roasted corn, fresh cheese, cilantro crema and Chicharrones

Crumbl Cookies Spring Hill
Assorted Mini Cookies

Flour Girls
Fresh Strawberry Shortcake

Hall's Sausage
Halls Andouille Sausage Jalapeño Popper Dip
and variety samplings

The Islander at Dauphin Island
Seared Ahi Tuna
with Asian slaw and wasabi, pickled ginger

Jerusalem Cafe
Baklava

Mandina's Restaurant
Pork Cheek Orleans
served with sweet potato puree and roasted asparagus
topped with bacon jam and pork au jus

Mary's Southern Cooking
Lasagna
with green beans, yams, rolls

Naman's Catering
Bourbon Glaze New York Striploin and Crab Bisque

The Noble South
Dirty Chai Tart
chai custard, espresso butter cream with almond milk caramel

Nothing Bundt Cakes
Assorted Bundt Cakes

Renaissance Riverview Plaza
We're sure it'll be delightful.
Rocky's Cajun Fare
Cajun Jambalaya
with Conecuh Sausage and Shrimp creole and steamed rice

Savor...Mobile
Birria Tacos
with pickled red onion and central Mexico peppers

Sheepshead Eats
Steamed Dumplings
filled with chicken, carrots, peas onion, and garlic
served with a savory sauce
Vandals Street Kitchen
Grilled Shrimp Tacos
grilled shrimp, citrus coleslaw, spicy mayo,
pickled red cabbage on corn tortilla
Thank you to our 23rd Annual Chef Challenge Sponsors!
Epicurean Sponsor




Bon Vivant Sponsors

Connoisseur Sponsors
Gourmet Sponsors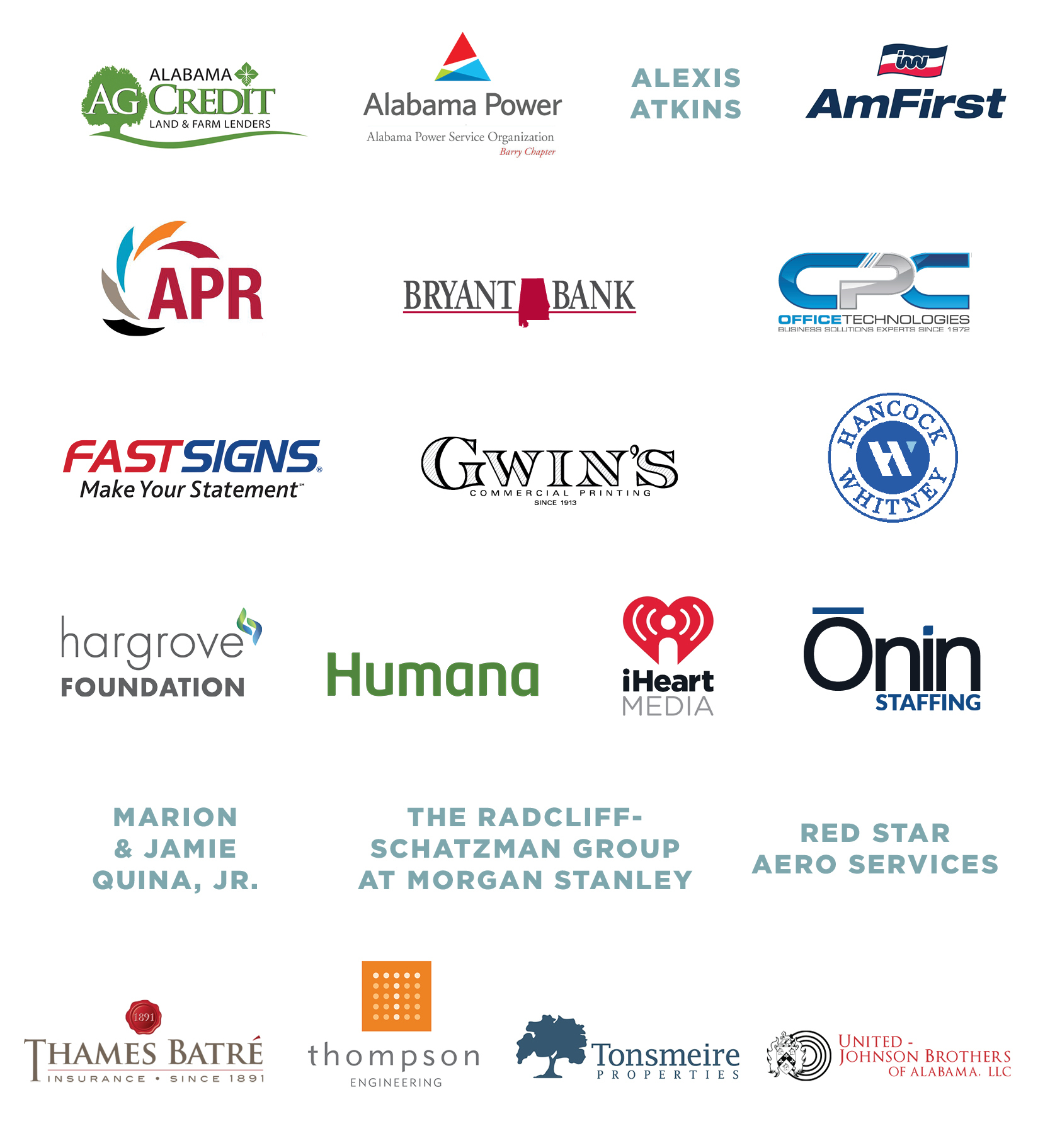 Bistreaux Sponsors
AETNA/CVS
Blue Bell Creameries, L.P.
The First Bank
Franklin Primary Health Center
GC Specialities
Ideal Truck Service, Inc.
Luxe Pop Events
Payroll Vault
Poly Surveying of Mobile
Robin and Jane Grieves
Stone Crosby, P.C.
Thermo King
United Bank
Wells Fargo Advisors

Foodie Sponsors
68 Ventures
Alston Refrigeration Co.
Auto-Chlor Services
Baldwin County Sewer Service, LLC
Big Charlie's Produce
CB Flock Research Corporation
China Doll/Dixie Lily Foods
Dr. Errol Crook
Fairhope Pediatrics
Fairhope Physical Therapy, LLC
I Deal Specialities
Infirmary Health
Keesler Federal Credit Union
Kellogg's
Leavell Investment Management
Penske Truck Leasing
Raymond Carolina Handling
Transnational Foods
Trustmark Bank
Tyndall Federal Credit Union
Urology Associates
Backpack Sponsor

If you would like more information on how to get involved, please contact Tonia Camardella at (251) 653-1617, ext. 141 or email us at events@feedingthegulfcoast.org.