For more information on our Child Nutrition Programs or to become a Backpack Program sponsor, contact our Director of Child Nutrition Programs, Rebekah Dawson at 251-653-1617, ext. 128.
The Backpack Program



The Backpack Program helps meet the needs of hungry children by providing them with nutritious and easy-to-prepare food to take home on weekends and school vacations when other resources are not available. Backpacks contain enough food for six meals and two snacks: including protein and fruit juices.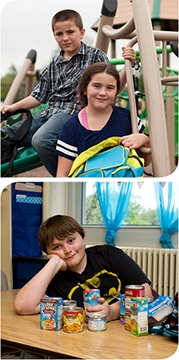 How it Works



Teachers and school counselors identify students who would benefit from the Backpack Program. Then the food bank is given the number of children in need at the school. The children's identities remain anonymous to the food bank, donors, and their peers.
With the help of volunteers, the food bank prepares the bags of food, which are placed discreetly in children's backpacks on Friday afternoons for them to take home over the weekend.
Support a Child
$180 will sponsor a child for an entire school year. Click here to make an online donation and select the state of your choice.
Volunteer to help pack bags for the program.
Become an advocate. Many are unaware of the severity and extent of child hunger in our communities. By promoting the program, you can help spread the word about child hunger and the ways we work to alleviate it.
The School Pantry Program
Similar to the Backpack Program, the School Pantry Program provides students with easy access to nutritious, nonperishable, and easily consumed food and other necessities. The program affords children dignity, privacy, and comfort in selecting food and other items which the student and their family need. Teachers, counselors, and school nurses identify students based on their level of need and as they demonstrate signs of hunger in the classroom. Students can visit the school pantry weekly to select nutritious, easy to prepare food, as well as toiletries for personal use.
Become a Program Site
If your school would like to become a part of this program or if your organization would like to help sponsor children benefiting from its services, please contact Rebekah Dawson at (251) 653-1617, ext. 128.
The Afterschool Meals Program
The Afterschool Meals Program provides free meals and snacks to children through a variety of community locations—such as Boys and Girls Clubs, churches or public schools. This program also promotes a safe place where a child can get involved in educational, recreational, and social activities.
Become a Program Site
If your organization would like to become a part of this program, please fill out a site application for your state: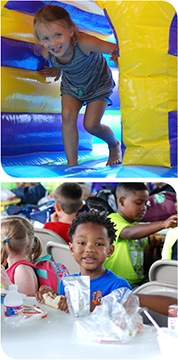 The Summer Meals Program
Summer means no school—but it may also mean no lunch for children in our 24-county service area. To help fill this gap, we offer the Summer Meals Program funded by the USDA. This program provides free summer meals to kids under 18.
Sites involved in this program serve two meals a day (breakfast, lunch, or snacks) to children in their community.
Become a Program Site
If your organization would like to become a part of this program, please fill out a site application for your state: