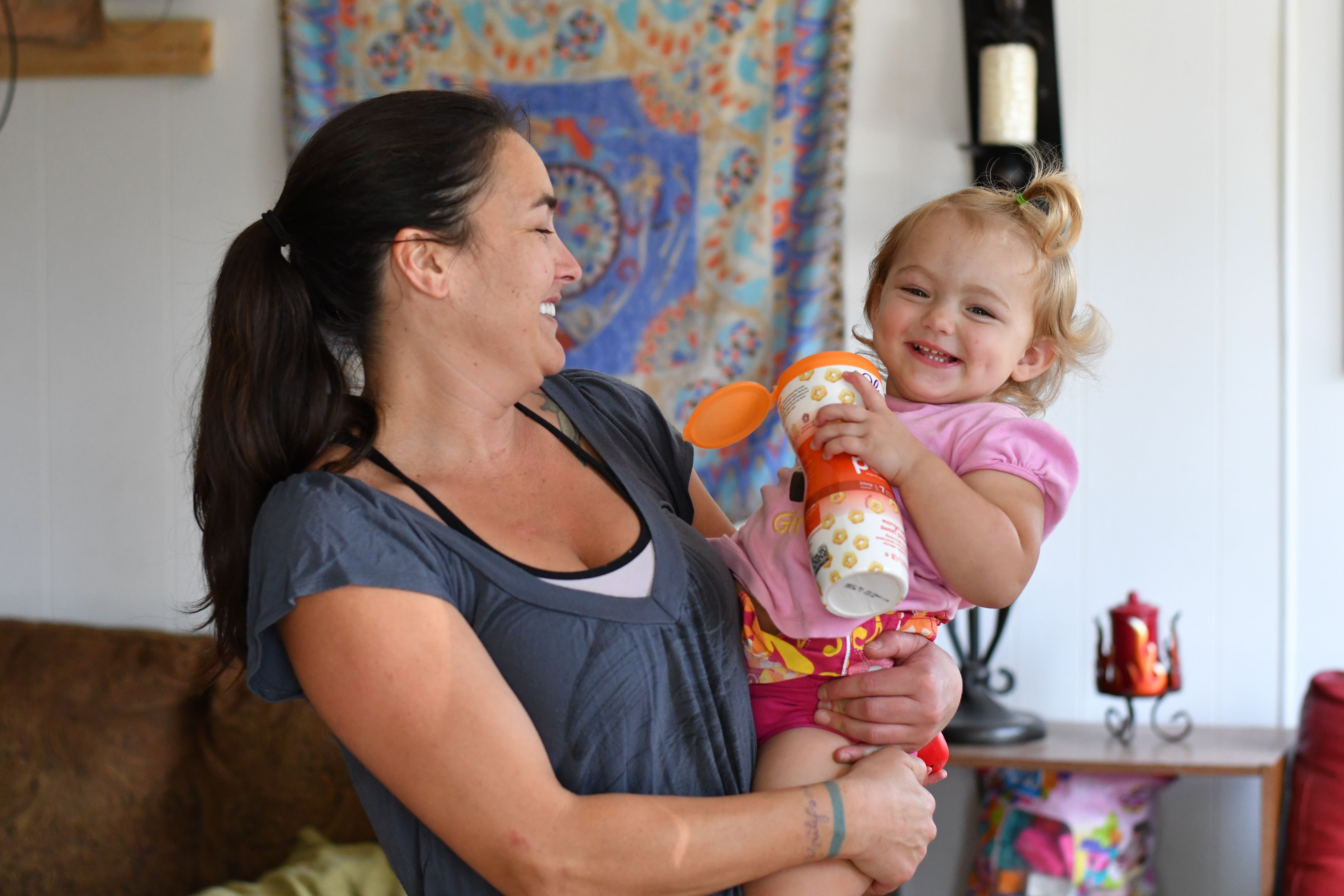 We have three kids and a baby. We have lost everything. It's been slow. We've had to replace everything. It's been difficult. The pantry helps us get through the week.

- Ashley
Most kids' birthdays are celebrated with a party, cake, and friends—not waiting in a food line in the middle of a hurricane-stricken town. However, judging by the smile on her daughter's face, Ashley is confident that her daughter will not remember the stress, but only that she was a happy, bouncing 2-year old during a difficult time.
Displaced yet again by a storm, Ashley and her family of six spent several months residing in various hotels, trying to stay as close as possible to her husband's job. Even still, with the distance, curfews, and traffic, her husband would often have to drive for an hour to get to work, causing additional stress for the family. "It was definitely not good," recounted Ashley.
Ashley and her family recently moved into a house in Panama City with another family of three. "This new place is great, but it costs a lot of money. We got lucky finding it. It's in the same school district as the girls. But it's rough; my husband is having to support all of it."
With her husband working over 60 hours each week as an AC technician, Ashley talked about how hard it was to be separated as a family during this time.
"I came to Florida with two bags of clothes after Katrina. I've gone through this before, but this time, because I do have a family, it's been a lot harder. I'm a mom, and not being able to provide for your kids is very terrible. It's been a horrific experience. It's been a blessing to have any help. You don't know how important it is to have a bottle of cleaner and some cleaning rags until you've gone through this."
Over the past year, Feeding the Gulf Coast has been active in working to rebuild and establish hope in the communities affected by Hurricane Michael. One year and 8.7 million pounds of food, water, and supplies later, we are still working through the hands and feet of amazing community partners to provide regular food pantries.
These pantries, however, have been an act of love provided by you. We have been able to act quickly to move food into these communities because of gracious donors and friends like you who have equipped us to have the necessities and labor we need to respond to disasters.