Up to 40 percent of the food in the United States goes to waste (NRDC). That is about 133 billion pounds of food (USDA). At the same time in our local Gulf Coast communities, 1 out of every 6 individuals needs food assistance.
Helping the people we serve to gain access to healthy foods is critical. Ensuring food waste is minimized in the process is an essential part of our mission as well. That's why the Retail Donation Program is a unique opportunity to address both.

Meet Kari Ann Kinder and Duane Ates.
Kari Ann is the Retail Store Donation Coordinator for Alabama and Mississippi, and Duane Ates is the Retail Store Donations and Transportation Coordinator for Florida. They work closely with retail store employees, who they affectionately refer to as "food angels," to rescue unsold and unspoiled food from being thrown away and instead, get it into the hands of those who need it most.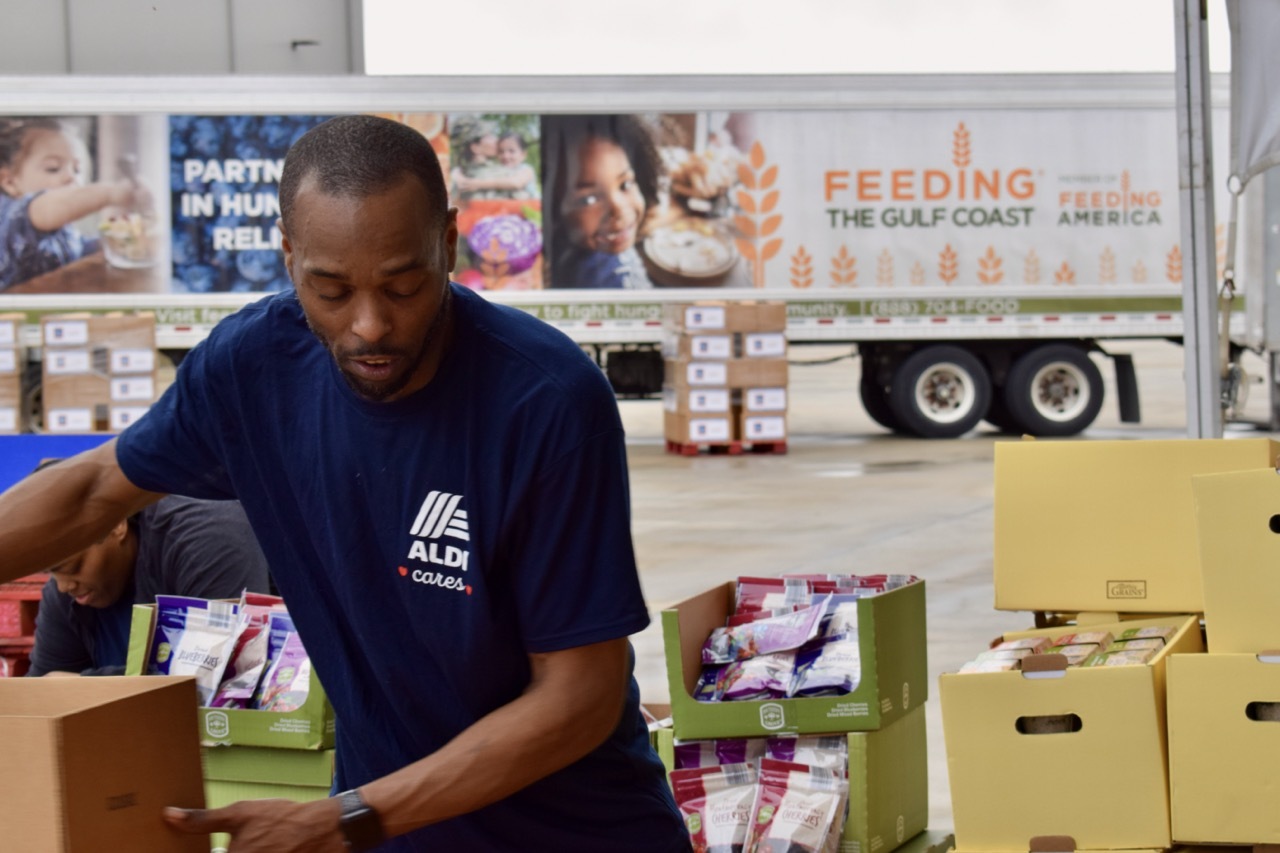 "Rescuing these groceries is such a beautiful thing."

- Kari Ann Kinder
The process is simple: retail store employees will set aside unsold and unspoiled food items, such as produce, bakery items, and even frozen goods, and the coordinators will arrange for the food to be picked up and transported to one of our warehouses or to one of our many partner agencies. Alternatively, many of the Feeding the Gulf Coast agencies that operate food pantries pick up directly from the retail store. This makes the process of getting food into our local communities happen in near real-time.
This program is a win-win for everyone involved. Retail stores can positively impact their community while reducing waste and potential disposal costs. The food bank or pantry receives much-needed supplies, and individuals and families in need have access to nutritious food.
But this process doesn't just happen. The success of this program is thanks to the hard work of our coordinators, Kari Ann and Duane, who spend much of their time developing relationships with our retail partners, the "food angels." Feeding the Gulf Coast drivers are also vital to this program. They spend hours on the road every week retrieving and delivering this rescued food.
"Our drivers are just awesome! They are always reliable, consistent, and loyal to our mission."




- Duane Ates
In 2022, more than 9.5 million meals were provided to our neighbors facing hunger through the Retail Donation Program.
The next time you shop at your local grocery store, take a moment to appreciate the "food angels" working behind the scenes to make a difference in your community. And if you're looking to get involved and make a difference, you can also support the various donation campaigns that retail stores often operate, which allow you, as a customer, to donate to local food banks, like Feeding the Gulf Coast, directly at the point of sale. Some examples are the Walmart Fight Hunger Spark Change campaign which happens every year in April and the Publix Feeding More Together campaign.
The Retail Donation Program is a shining example of how working together can make a real difference in the fight against hunger and food waste. With the help of dedicated coordinators like Kari Ann and Duane, our hard-working drivers, and the tireless efforts of "food angels" at retail stores, we are able to rescue and redistribute millions of pounds of food each year, making a significant impact in the lives of those in need.