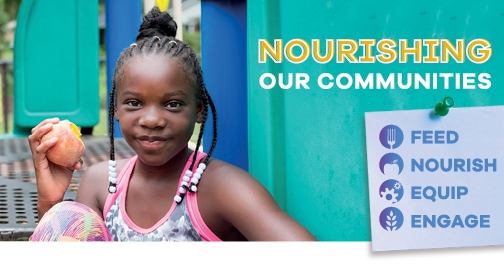 In 2017, our Board of Directors and staff worked together to establish a vision to strengthen our local communities as an organization. Four key pillars were set in our strategic plan as the foundation of our efforts: FEED, NOURISH, EQUIP, and ENGAGE.
---

Our goal is to shape meaningful progress toward ending hunger through increased access to nutritious food for individuals and families along the Central Gulf Coast struggling to make ends meet. Additionally, by working through community partners, we will help individuals access essential programs that provide much-needed resources and connect them to other community-based services.
Last year, we distributed nearly 29 million meals including supplies through the hands and feet of our dedicated community partners.
Distributing this record-breaking amount of meals was no small task, and it was made possible by you—our donors, supporters, and friends. We are grateful for your continued partnership to help end hunger along the Central Gulf Coast.
Here at Feeding the Gulf Coast, we strive daily to nourish communities, and our work begins with access to healthy food.
Our vision is to build stronger, healthier communities; thriving because families have the resources they need to succeed and children, energized from a good breakfast, are ready to learn and conquer the day.