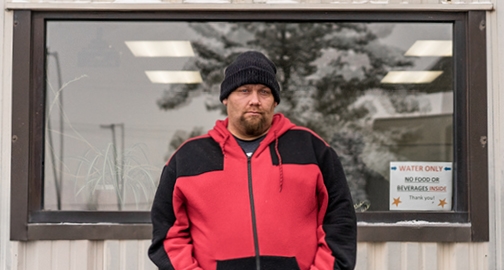 It's hard because even when you give it your all and do everything right…apparently, sometimes that's just not enough.


- Zakkeeas Aronson, individual affected by the recent government shutdown
Weeks into the longest partial government shutdown in history, Zakkeeas Aronson and his wife Teresa faced a reality they never thought possible.
"We've got 30 days to come up with rent, or we could be out of our house," Zakkeeas admits.
That's because Teresa, who has worked as a medical technician at a VA facility, was furloughed during the shutdown and the couple has now missed two straight paychecks.
Even though he works as a security guard, Zakkeeas' income is not enough to keep the family afloat while they wait for Teresa to go back to work. So, Zakkeeas did something he never thought he would need to do—visit a food pantry.
After five long weeks of uncertainty, many furloughed workers resumed their jobs. The actuality of how close it can take someone living on the edge of financial concern to cross the line remains etched in their minds.
The past month provided moments for our staff to hear these stories of concern and gratitude for help along the way.
"I volunteered in Panama City after Hurricane Michael. I remember giving out the food boxes handed to me today. I never thought I would be on this side," commented a government employee as he pulled into the car line.
For those who already were struggling with hunger, these past several weeks have come with high concerns that their benefits would become unavailable.
According to Share Our Strength's Hunger in Our Schools report, 64% of low-income parents report that they would struggle to feed their children if they faced an unexpected crisis, such as a $1,500 car repair or medical bill.
Many people we serve have to make these tough choices and more. Concerns remain about the shutdown's lingering effects. Federal workers are expected to be paid, but more than one million federally contracted employees are unlikely to receive back pay—resulting in a 10% loss of their yearly income.
Feeding the Gulf Coast anticipates that many will continue to need assistance as they recover from the financial impact of the five-week shutdown and we are prepared to be there as long as it takes.