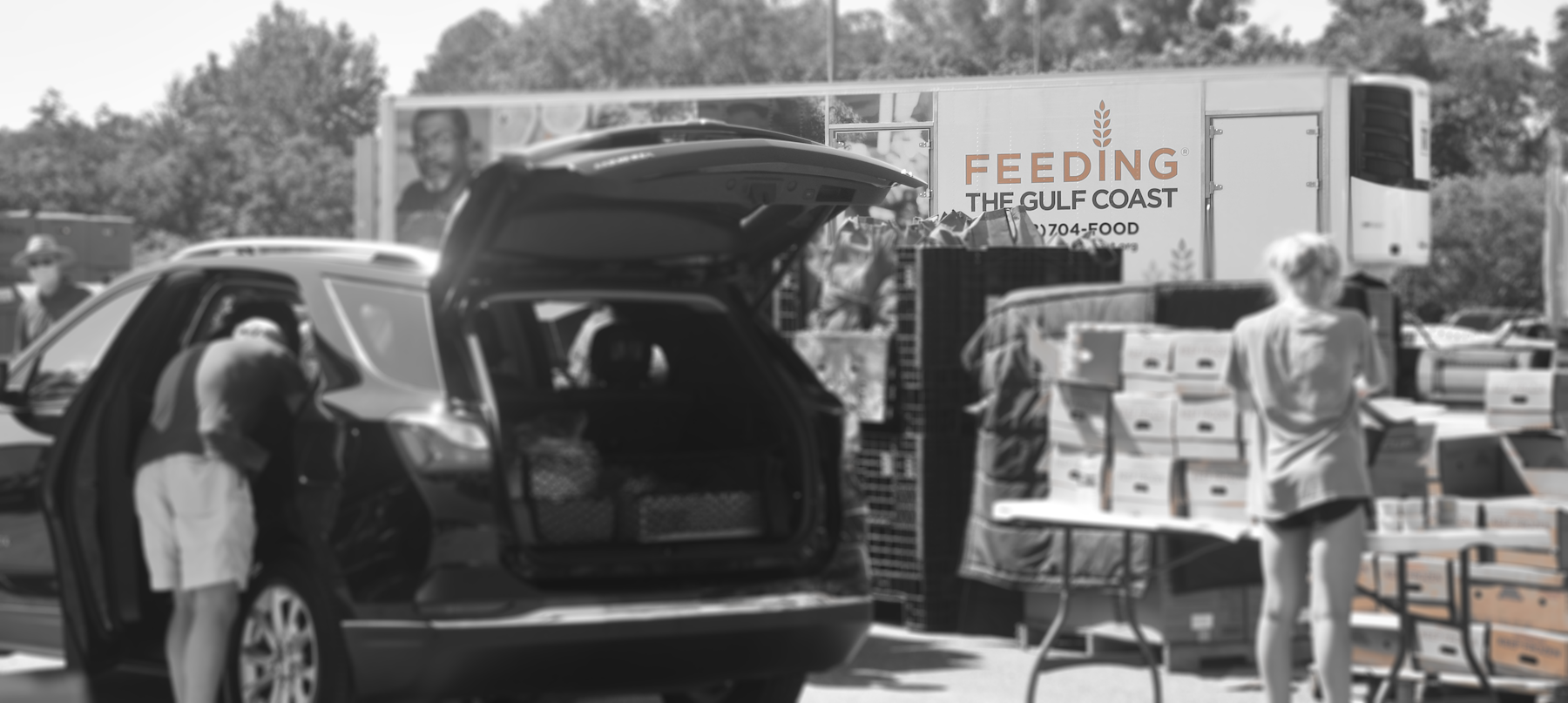 A very common question we often hear is "What is the difference between a food bank and a food pantry?" The two terms are often used interchangeably but are actually quite different.
Let's take a look!
Food Banks
Food banks are non-profit organizations that safely store donated food for distribution to local food pantries, which then provide that food to those facing hunger in our communities.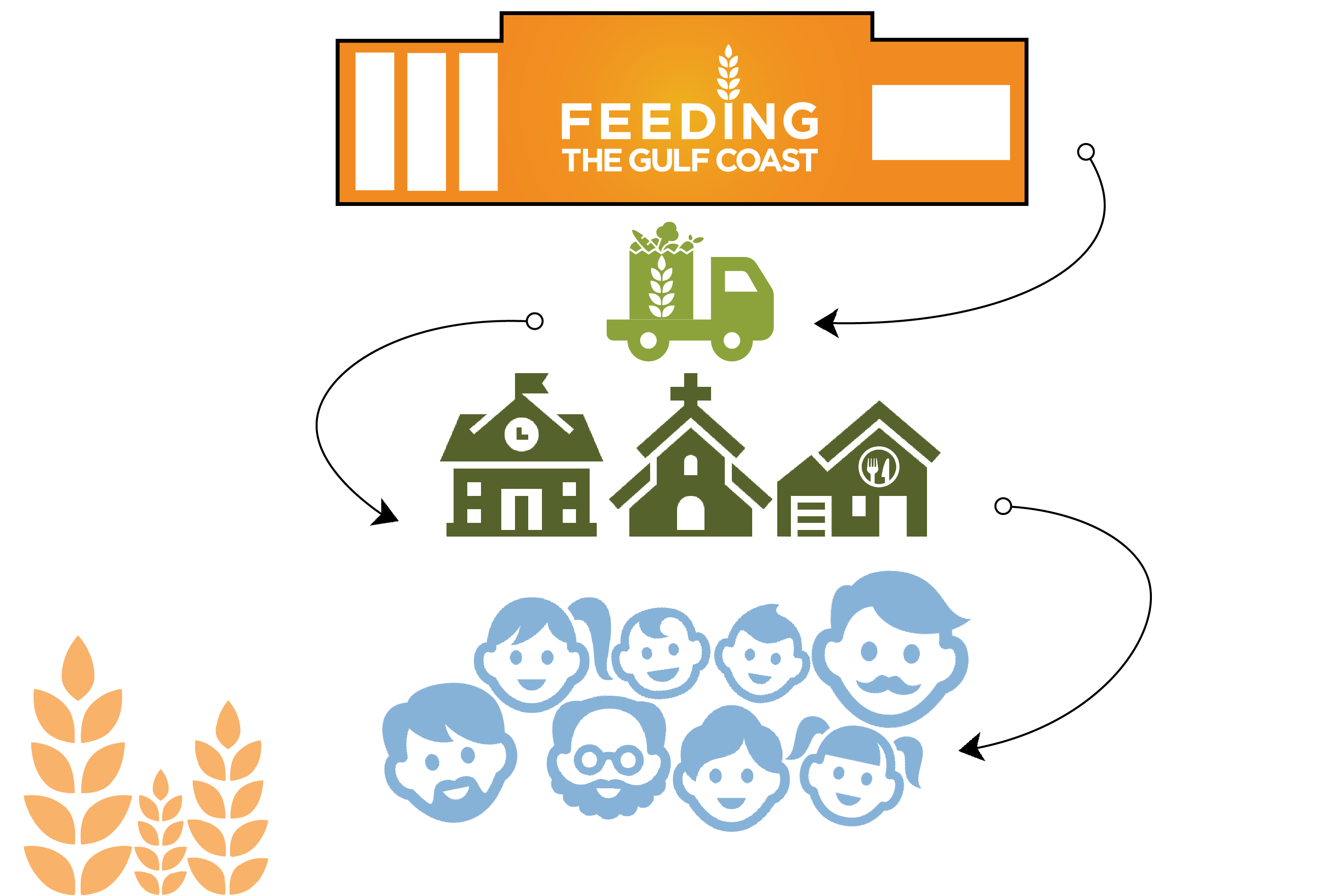 Feeding the Gulf Coast is one of 200 food banks that are a part of Feeding America's network. There are enough food banks in this network to provide food for those needing assistance in all 50 states, plus Washington D.C. and Puerto Rico.
Food banks can vary in size and service area. Feeding the Gulf Coast, for example, serves 24 counties across south Alabama, the panhandle of Florida, and south Mississippi - that's more than 23,000 square miles!
To serve that large of an area, we operate three branches, one each in Theodore, Ala., Milton, Fla., and Gulfport, Miss. Our Theodore facility serves as the main headquarters at 40,000 square feet and includes a large refrigerated space and an air-conditioned dry storage area for donated food.
Our Milton branch includes a 15,000 square foot warehouse, also capable of storing dry, refrigerated, and frozen goods.

Our Gulfport branch includes a 14,250 square foot storage facility, which includes a recently-installed produce cooler, courtesy of some of our generous community partners, Walmart Foundation and Wells Fargo.

We also rely on Redistribution Organizations (RDO) like Destin Harvest and Partner Distribution Organizations (PDO) to get food into our communities.

The main difference between an RDO and a PDO is in terms of service area and activities. An RDO is more limited in activities, only performing some but not all the same activities that we, as a food bank would, while a PDO performs all the same activities as a food bank and has its own service area, but is monitored by the food bank.
It takes a dedicated team of staff and volunteers to keep our operations running smoothly so that those facing hunger receive the help they need.
A key group of that staff is our drivers. In an average week, Feeding the Gulf Coast's drivers log hundreds of miles delivering food to our network of partner food pantries.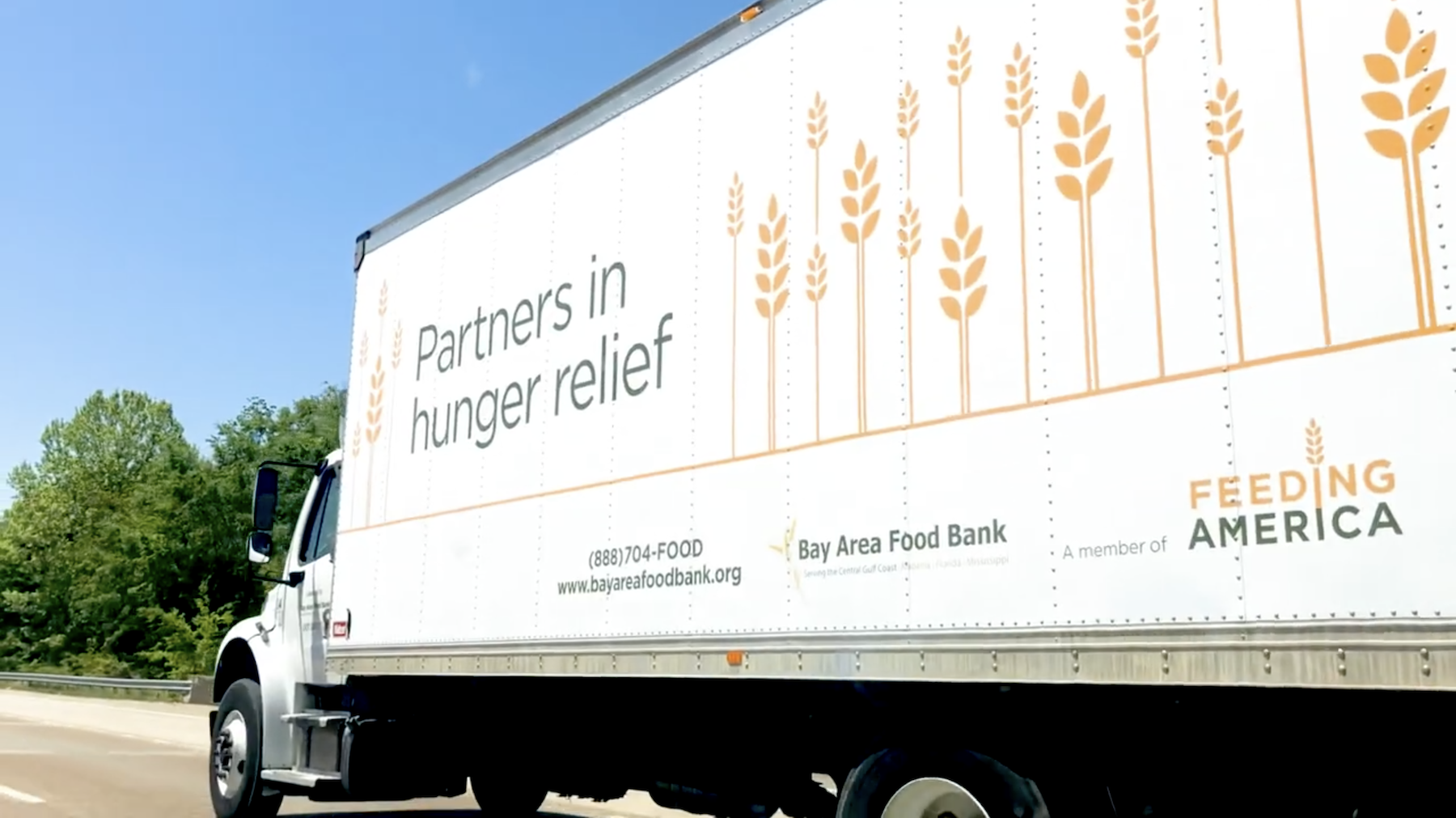 Our drivers, and other staff, remain committed to ending hunger in our communities.
So where does all this food come from? Excellent question!
The Flow of Food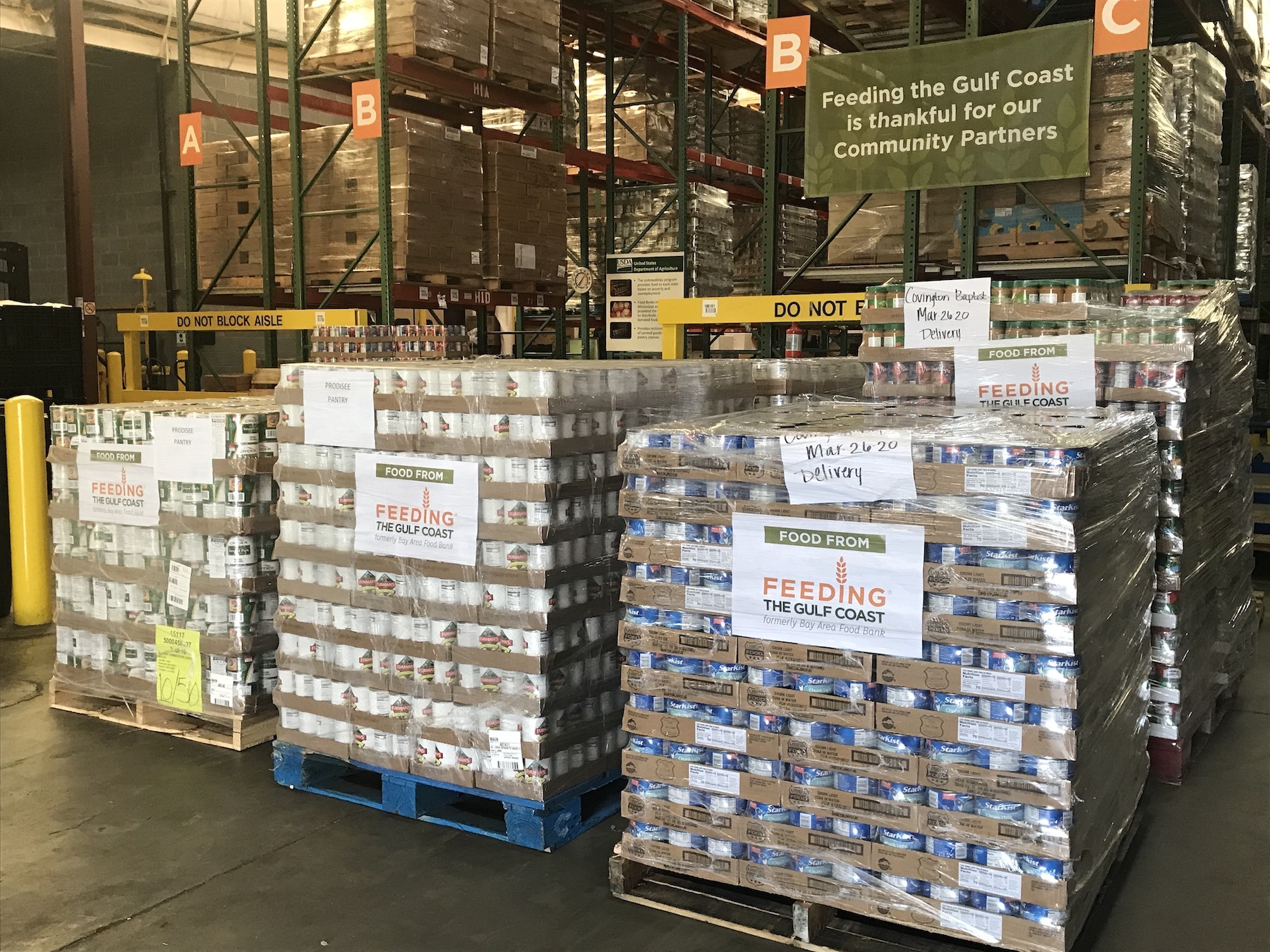 We acquire donated food from various national donors, USDA, local retail partners, farmers, and community food drives from people just like you.
---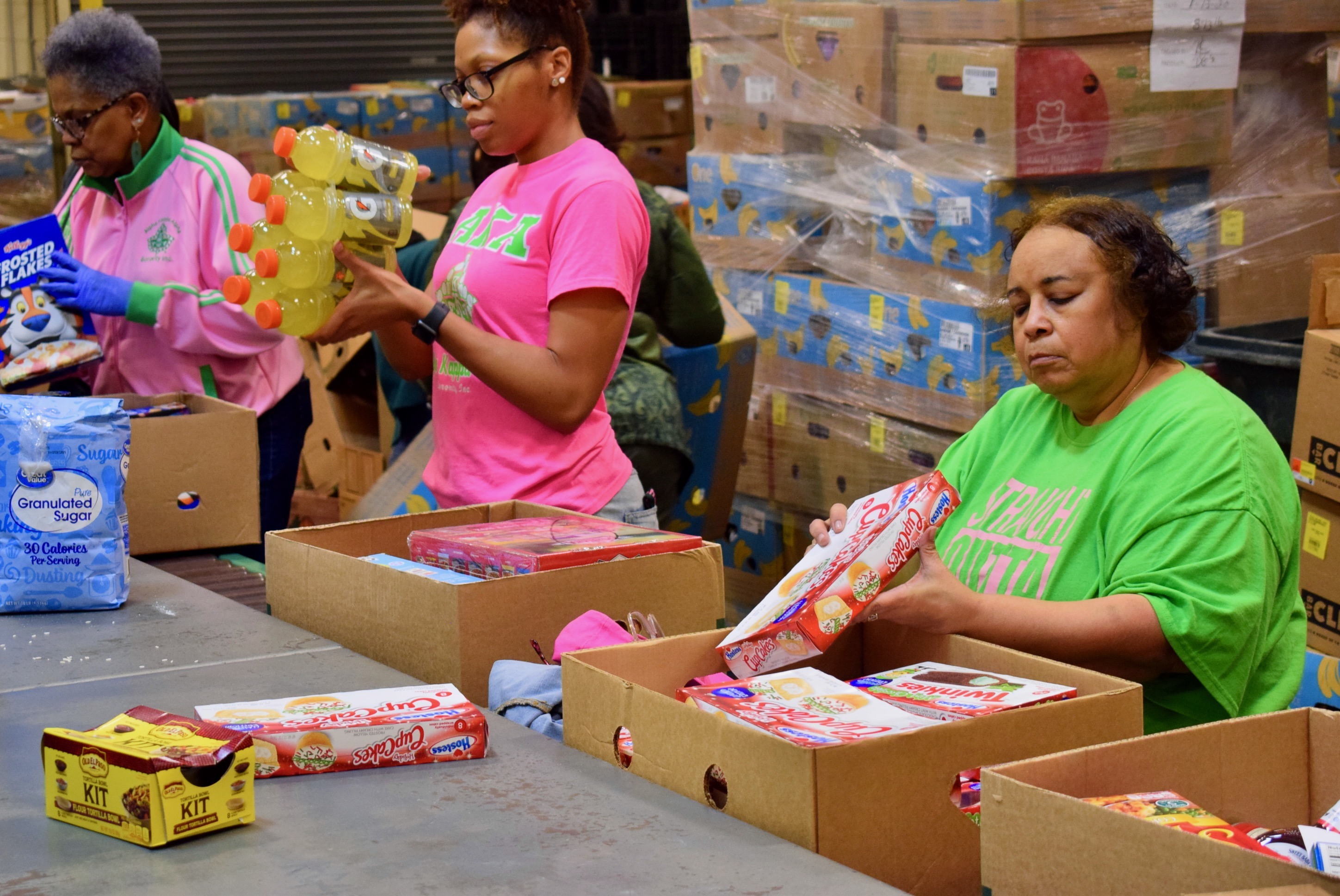 This food is then inspected for safety, sorted, and packed into boxes ready to be distributed to members of our network - the food pantries.
---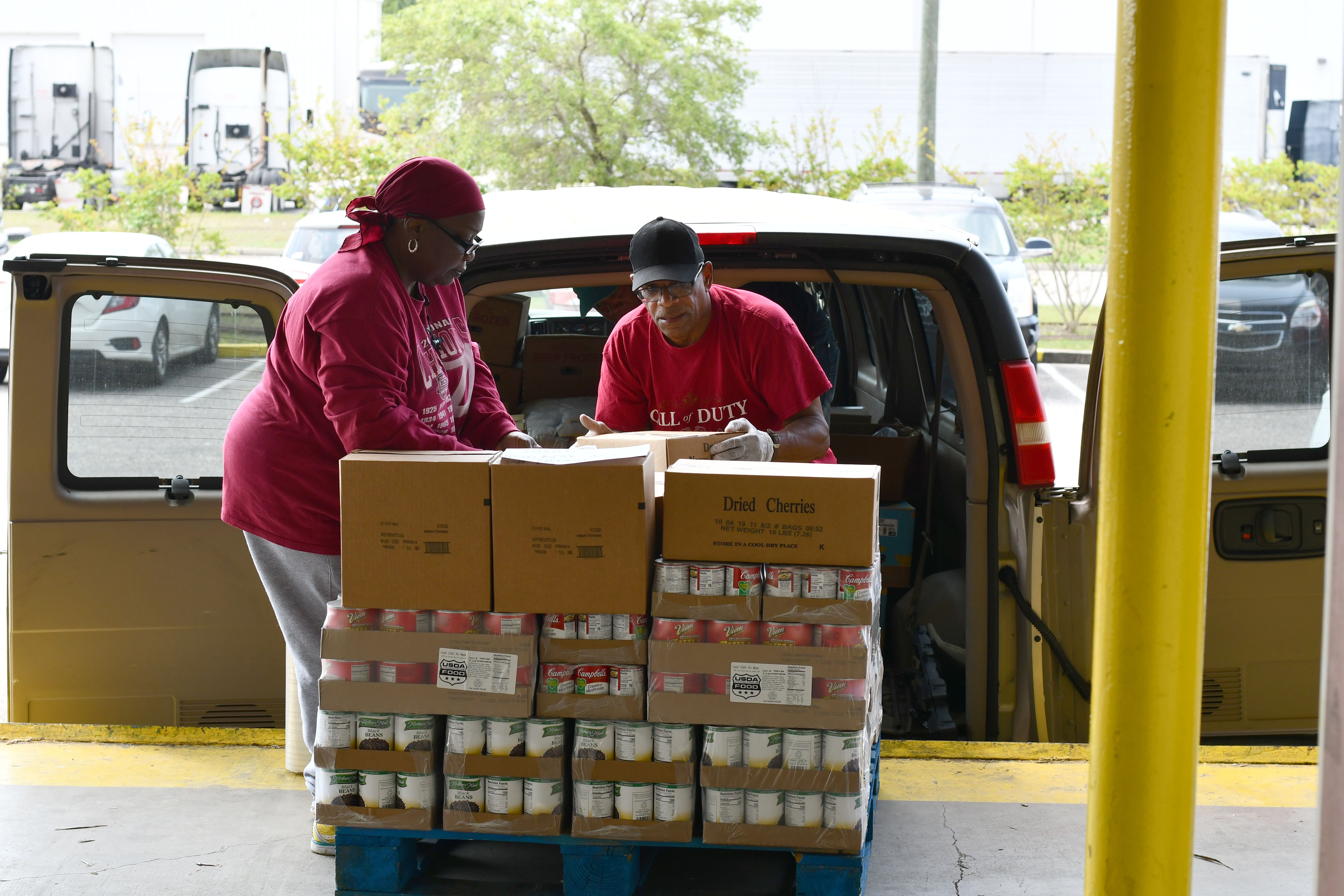 Once our volunteers have thoroughly inspected items, food gets transported to member agencies and other food bank partners, like food pantries, for their distributions.
---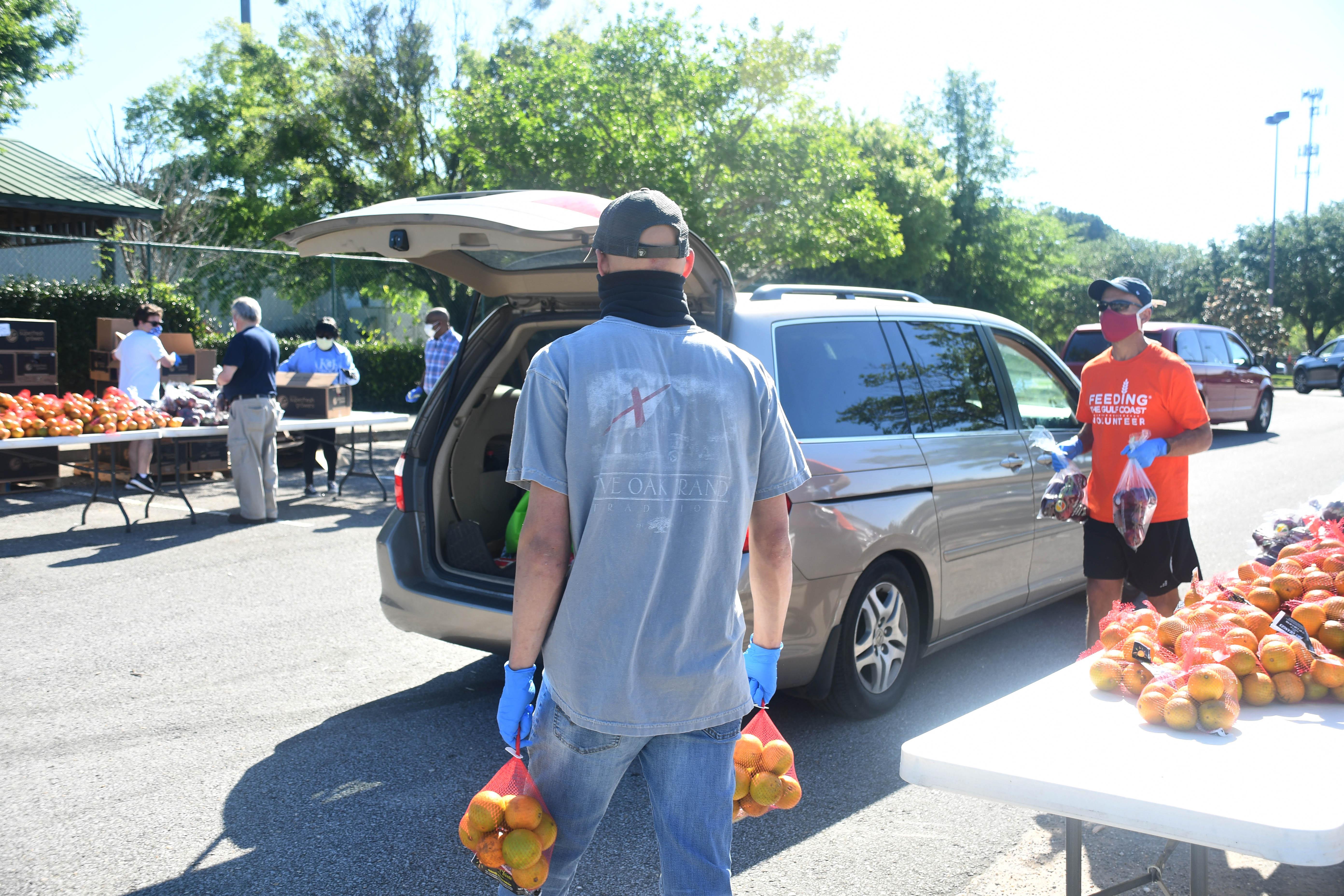 Our partners, along with volunteers, serve as our hands and feet by directly distributing the food to those in need within their local community.
---
Now that you're familiar with what a food bank is, let's talk about pantries.
Food Pantries
A food pantry is a distribution center within your local community that is able to provide free food, supplied by Feeding the Gulf Coast food bank, for anyone facing hunger. We refer to these sites as partner agencies. In our network alone, we have 400 different partner agencies that serve our local communities. Just how vital are these sites? In 2019, 63% of the donated food received by Feeding the Gulf Coast went directly to our partner agency sites.
Through this network, in 2019, we distributed over 29 million pounds of food to individuals, families, seniors, and children in need. This equates to over 24 million meals provided!
A food pantry can also vary in appearance and operational logistics since every community is unique. Some pantries work best operating directly within a school to serve kids that may not have a meal when they get home after school. Others, like Prodisee Pantry in Baldwin County, Alabama, are non-profits themselves that serve individuals and families in their community.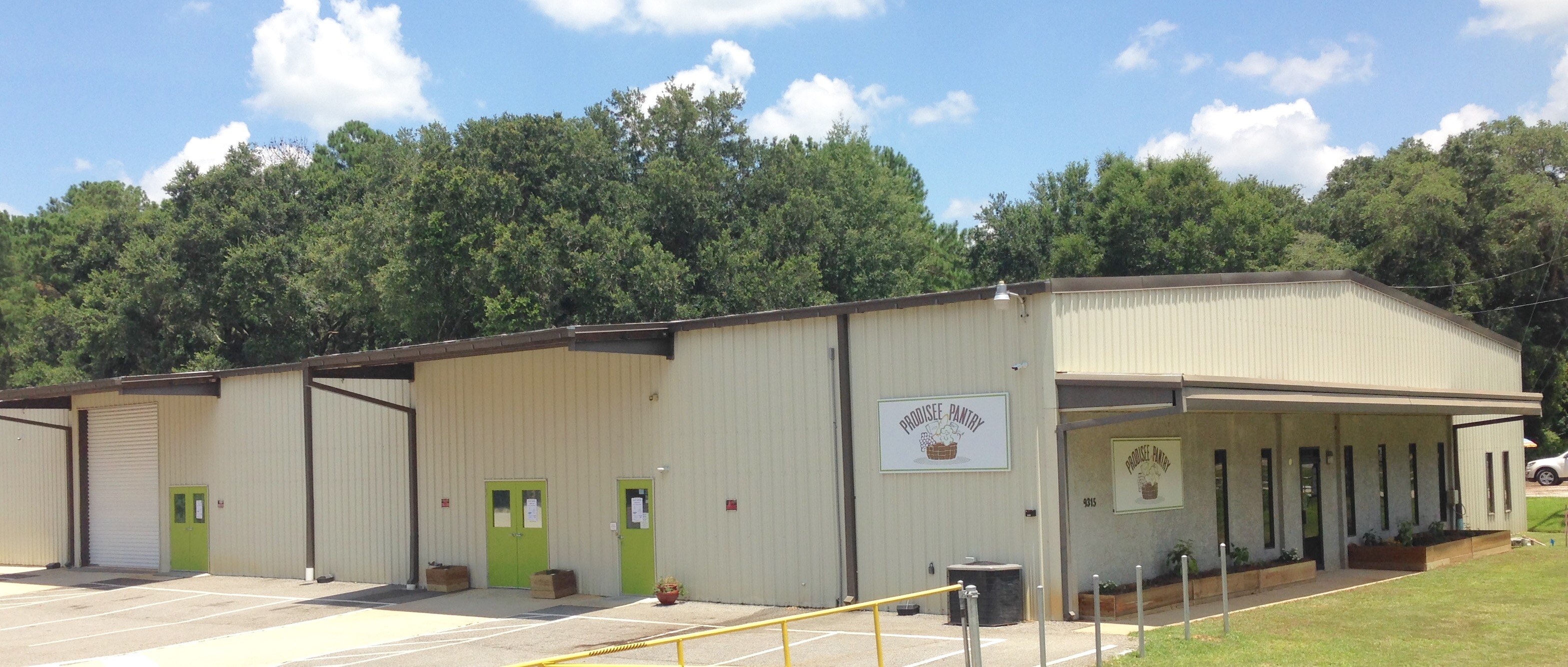 Churches are a common and valuable location for food pantries as well. In our network of partners, we are proud to work with dozens of churches, across our entire service area, each serving their surrounding communities. We even have a network of local libraries in Florida that serve families facing hunger as part of our Summer Meals Program.
Each pantry, or partner, operates a little differently depending upon their individual abilities and the needs of their community. Some of the areas and individuals we serve may face challenges that make getting food more difficult. These challenges can include rural communities or senior citizens with limited mobility or transportation options, for example.
That is where food distributions and mobile pantries come in. Through our relationships with various community partners, we are able to set up sites, like Hank Aaron Stadium in Mobile, Ala. or Milner Stadium in Gulfport, Miss. to serve as mass distribution sites, welcoming people from the surrounding areas. We're also able to bring truckloads of food to more rural communities where a drive to a grocery store or partner site might be too far for some living in the community. These areas are referred to as food deserts. Getting fresh, healthy food into these deserts is crucial for many individuals and families.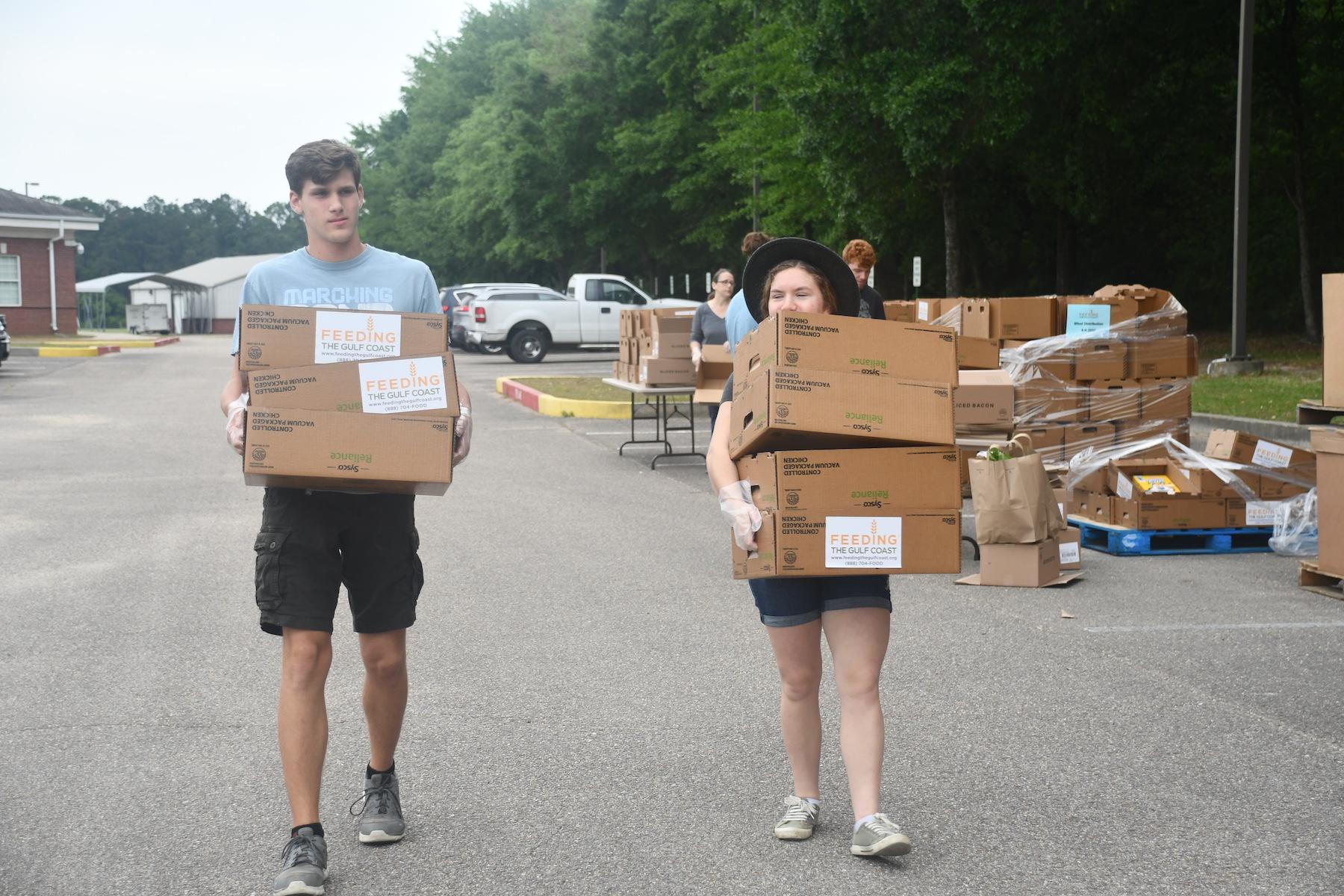 More than four hundred unique partners, plus distribution events, mobile pantries and child meal sites, spread across 23,000 square miles is a lot to keep track of. Fortunately, our website features a Find a Pantry tool to help those in need easily find a pantry or distribution in their area.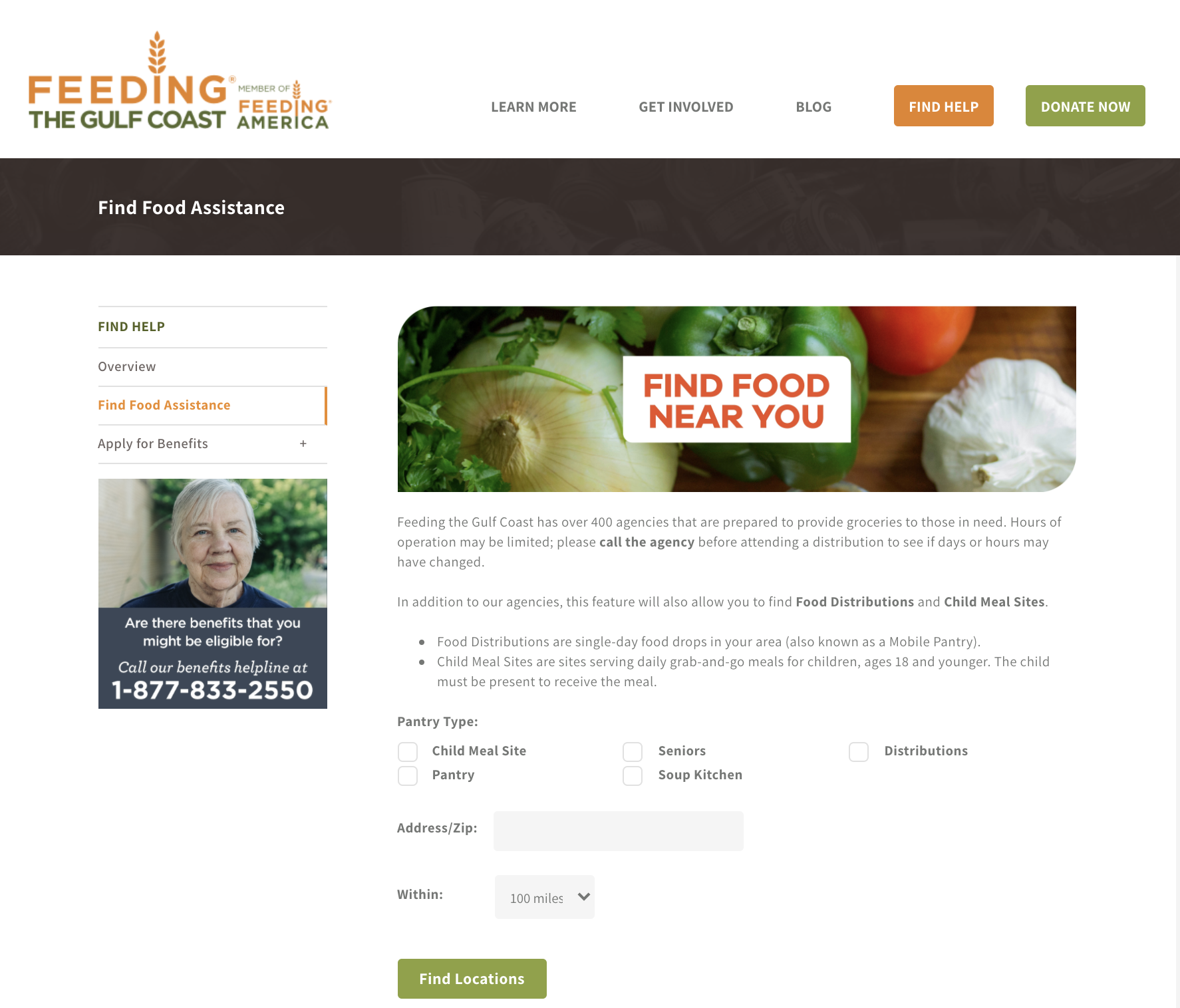 Interested in becoming a partner agency? Click here.
But How Great is the Need?
Feeding the Gulf Coast serves those facing hunger as a result of systemic poverty, personal crisis, or disaster.
In our service area alone, one in five individuals is at risk for hunger, including one in four children. That equates to over 354,000 individuals on an ordinary day impacted by the pain of hunger. This includes more than 108,000 children.
Due to the current health pandemic, We anticipate that an additional 133,100 individuals will be impacted by this public health crisis, leading to a 40% increase in need throughout our service area.
The face of hunger can look just like your neighbor, your coworker, or your family member. Many of our friends and families in our communities are one job loss or medical crisis away from food insecurity.
And when a disaster strikes, anyone can suddenly find themselves in need of food. Disasters like the current COVID-19 pandemic or the devastation of a storm like Hurricane Michael in 2018 leave families facing hunger - many for the first time.
Thankfully, we have our partner agencies, along with volunteers and various disaster response organizations to call upon when needed. Without their support, achieving our mission would simply be an impossibility.
What do our partners say about the service they're able to provide?
I believe numerous families would go hungry without these meals.

- Partner Agency
This service is really needed for all the children who depend on meals at school.
Thank you.

- Former Teacher
Thank you very much for providing meals for my children. They are enjoying all of the
nutritious and delicious food.

- Local Mother
Who Makes All of This Possible?
We simply cannot distribute the number of meals and help the many families that we do without the hard work of our staff, our volunteers, our 400 partner agencies, the many generous donors that give consistently and willingly, and of course our greater network of partners. We remain grateful for their hard work and dedication to fighting hunger.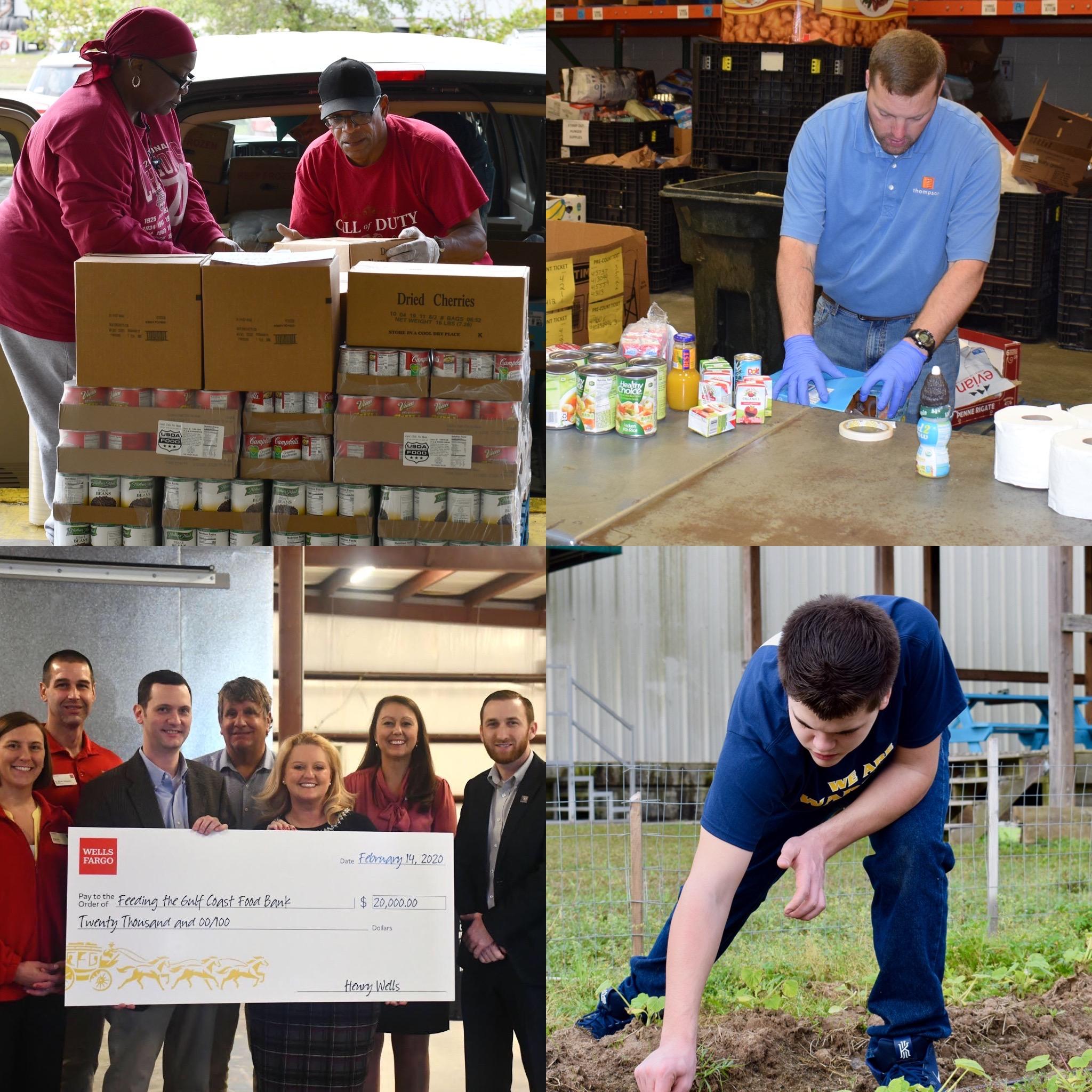 What Can I Do?
There are many ways you can get involved with any of our hunger-relief programs, such as hosting a food or fund drive or simply donating online to support our efforts. Spreading the word about our mission and increasing awareness of hunger issues on Facebook, Twitter or Instagram is another great way to help your community.

We remain committed to you and your community and to our vision of a hunger-free Central Gulf Coast.