As COVID-19 continues to impact our communities, many people want to know what they can do to help others.
Yes, we're all trying to manage our own needs during the COVID-19 health crisis, and yet, the realization that we are all in this together is ever-prevalent. And that's a good thing.
At Feeding the Gulf Coast, we are seeing an increase in both of those categories: people in need of help and people wanting to help.

Here are just a few ways you can help your community.

Note: for the latest information on our efforts to support our communities during the COVID-19 crisis, visit this page anytime.
Find a Pantry
As we continue on the front lines of this public health crisis, we are committed to keeping you and our community up-to-date on where to find food.

If you or someone you know needs food assistance, use our Find a Pantry page on our website. When you visit the page, just enter your zip code, and a list of nearby pantries will generate. This list is updated daily as new information becomes available or changes.

The list includes sites that provide food to families but also includes sites that are specifically set up to feed children who are missing meals while schools are closed. These child meal sites are for students, ages 18 or younger. The child must be present to receive the food.

For additional child meal sites across the state, you can also visit the following web pages:

Alabama: http://www.breakforaplate.com
Florida: https://www.summerbreakspot.org
Mississippi: https://www.mdek12.org/OCN

Additionally, if you need benefits, such as SNAP (formerly known as food stamps), you can visit the Benefits Enrollment Center's website for help applying.
Volunteer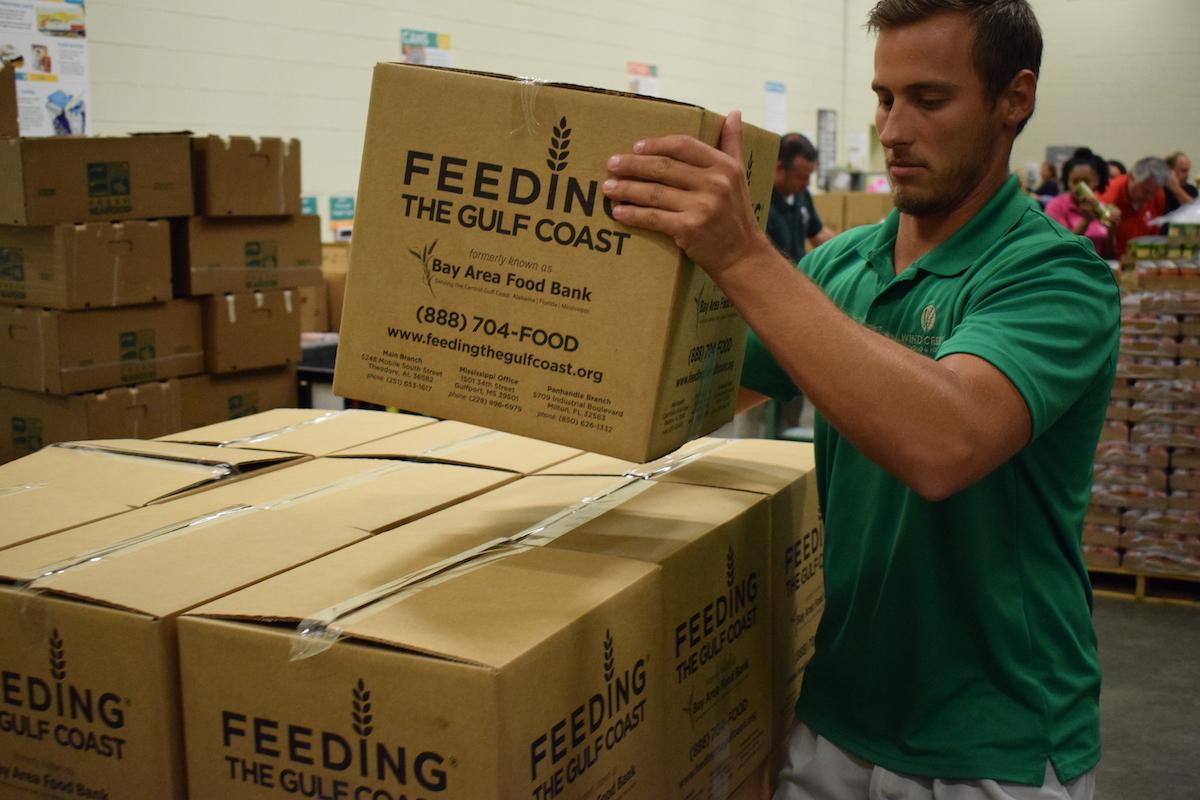 More than ever, we need healthy volunteers to help us meet the increasing needs in our community. Due to the COVID-19 pandemic, we have implemented stricter guidelines to ensure everyone stays safe.
We love and appreciate each and every one of our caring volunteers. Many individuals have stepped up to call, like Erica, who drove from Tallahassee, Fla. to volunteer at our Milton, Fla. warehouse (a 2+ hour drive)! Thank you, Erica!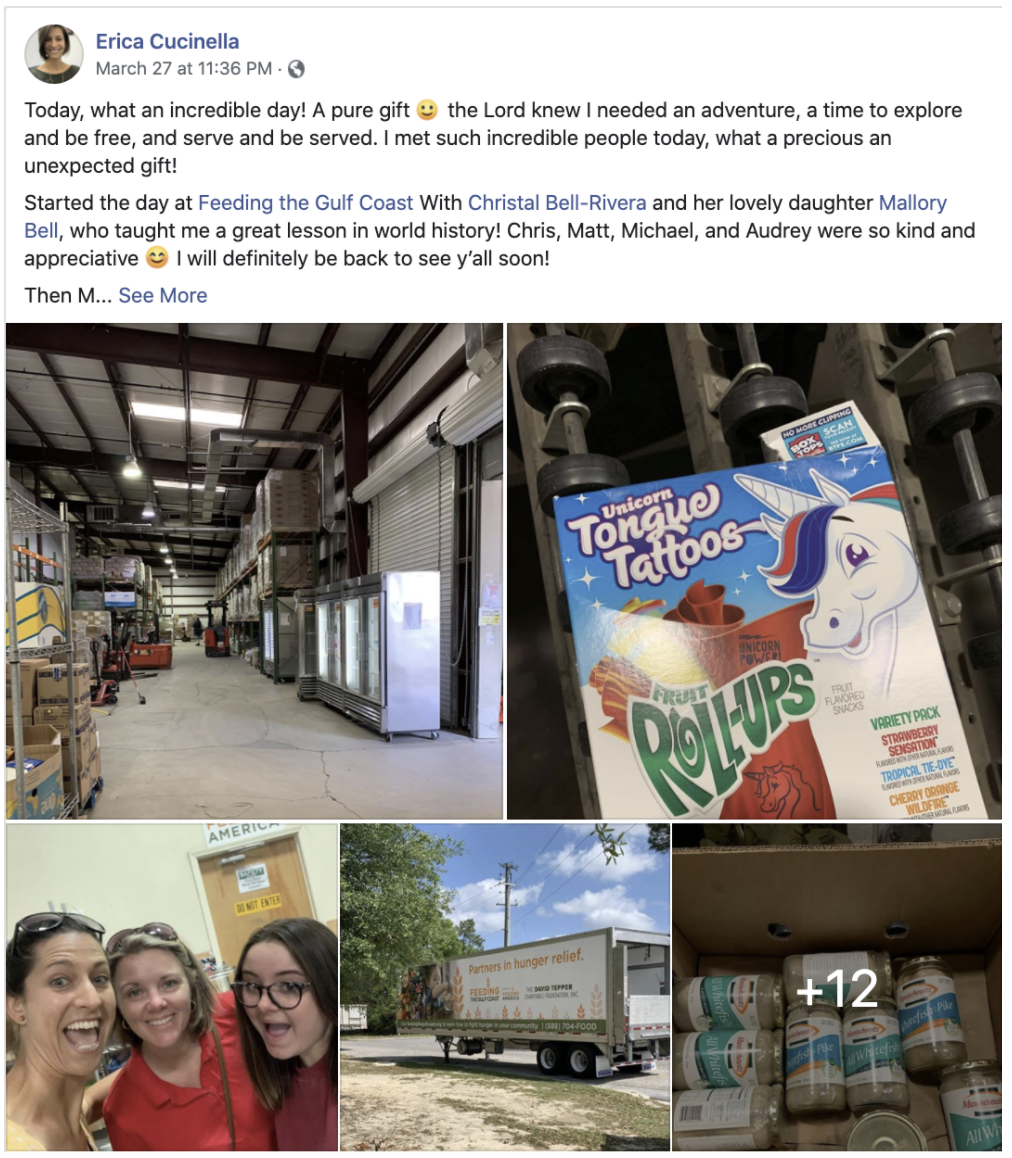 Right now, we are seeing a dramatic increase in food assistance requests. Having food sorted and ready to go out to our agencies is critical and volunteers help us make that happen quickly. If you're willing and able, you can visit this page to sign up.
Donate or Host a Fun(d) Drive
It takes funds for us to do what we do and get food to those who need it most. We are so grateful for the many individuals, groups, and companies and organizations of all sizes that have donated to support our efforts.
You can make it fun, too! Caleb Carmichael, University of West Florida Cross Country Coach, is taking his passion for running to an entirely new level by running 7 marathons in 7 days to raise funds for his local pantry and Feeding the Gulf Coast. That's more than 180 miles!
You don't have to be an avid runner to use your passion to raise awareness and help those in need. What are some creative ways you can help? Let's start the race for fund drives!
Did you know? For every $5 raised, we can provide 25 meals to individuals and families in need. "How is this possible," you ask? We can do this by taking advantage of purchasing our food items in bulk at a reduced cost, which allows us to purchase emergency food boxes during this time of crisis.
Therefore, any additional funds raised allow us to acquire more food to help meet the increased need. To learn how YOU can host a fund drive, visit this page.

Another fun and easy way to host a fund drive for Feeding the Gulf Coast is directly through Facebook! Share your fundraiser with your friends and make a difference in the lives of those in need in your community.
Give Blood
There is always a need for blood donations, even during non-pandemic times.
The American Red Cross has a Find a Drive page that allows you to enter your zip code and find blood drive sites near you. Alternatively, you can also call 1-800-RED-CROSS.

Support Local Businesses
This public health crisis has hit many local businesses hard. One way to show your support is to purchase gift certificates from these establishments for later use. Many local food establishments have closed but may still offer to-go or curbside service. Check with your favorite place and show your support by getting a bite to eat to-go.

Take Care of Yourself



Last, but certainly not least, it is also important to remember to take care of your own health and general well-being. Be sure you're taking all of the proper precautions recommended by your local government and/or health organization. Be sure to get outside — either for a walk or just to sit on the porch.
We must take the time to take care of ourselves so that we can be there for others.
While the times might have us feeling a little lonely, we're all in this together. As a community, we will pull together and get through this rough patch.

After all,

"Alone we can do so little; together we can do so much."

- Helen Keller